Who would have thought that what was once a simple and modest dry goods store would turn into one of the world's largest department retail giants? Rowland Hussey Macy, the brain behind R.H. Macy & Co. (or what we all know today as Macy's), encountered several failed ventures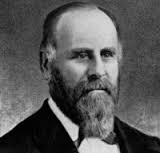 before overcoming adversity and achieving this huge success.
At the tender age of 15, Macy started working in a whaling ship with his father. He earned a relatively small amount for a tough job, which consequently inspired him to be more ambitious.Influenced by Benjamin Franklin's story, Macy worked as a printer's novice in Boston when he was 19. But the printing industry didn't fit him as it did Franklin. Macy then opened up a dry goods store together with his brother. They both strived to keep the business going, but eventually had to close it down after a year. For a decade, he had four unsuccessful retail ventures—yet he was not discouraged.
Macy and his brother then ventured into gold mining in California. They may not have hit big yet again, but they seized the opportunity to offer their goods to the miners. Despite most circumstances not meeting their expectations, they were able to take home a wealth of experiences and lessons that Macy used and incorporated to pioneer revolutionary efforts in the retail business. He was the first to offer lower prices to encourage cash pays in an age when most shoppers used credit. He also proposed fixed prices instead of offering bargain opportunities in which items were sold at the same price to every customer. Sadly, even with his hard work and modern way of thinking, the business still failed and he eventually had to declare bankruptcy.
Macy's inventiveness and perseverance paid off at age 36, when he launched R.H. Macy & Co. He knew how to look back to where he started—and it was shown in the store's business symbol—a red star—which he had tattooed on his hand dating back to his days as a sailor. He was willing to take risks, and he never got tired thinking of groundbreaking ideas in order to sell.



Aside from this, Macy did not fear investing money into the ideas he strongly believed in. In 1877, he rented 11 neighboring buildings, introducing what we know today as the department store. Macy actively and consistently thought of unprecedented marketing strategies, such as putting up a Santa Claus store during the holidays, and the original themed store exhibits and lighted window displays that never failed to draw customers in.
Macy didn't stop at innovative business strategies; he also empowered women of his time by hiring a woman executive to be in charge of retail sales. Another proof that he honored his past, Macy continued to believe in the capabilities of women. This is because he grew up in an environment where women headed operations in family businesses while their husbands went sailing.
Macy had indeed become stronger and wiser through overcoming multiple adversities. His initiatives made a mark in retail management, and today, Macy's success spans to approximately 800 stores in almost every major geographic market in the United States.
Perseverance in the midst of failure is a quality of the brave; and it requires a drastic change of mentality for many. True enough, failures are costly. They cost a lot of time, effort and money. But success also has a price and Macy knew that. He knew that he needed to invest, and he was wise enough to realize that failures and adversities are essential for personal growth. And while failure in itself can be daunting, what he looked forward to is the success that comes after it.
Source:
Macy's: A History. (2014). Macysinc.com website. Retrieved Sept 17, 2014 from https://www.macysinc.com/about-us/macysinc-history/macys-a-history/default.aspx
Macys The Great American Department Store Marketing Essay. (2014). UK
Essays website. Retrieved Sept 17, 2014 from
http://www.ukessays.com/essays/marketing/macys-the-great-american-department-store-marketing-essay.php#ixzz3Dft3vme9
Anderson, A. (2014). The Star of Retail. Success.com website. Retrieved
Sept 17, 2014 from http://www.success.com/article/profiles-in-greatness-rowland-h-macy.