The Dallas Cowboys, better known as the "America's Team," is the most valuable franchise in the National Football League's history. Behind the team's on-field successes and their $3.2 billion worth is their feisty owner and general manager, Jerry Jones.

Learning the Value of Hard Work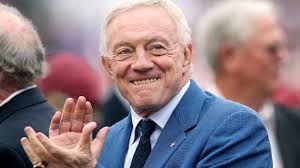 Unlike other professional sports team owners, Jerry Jones always makes appearances in his team's game, making him equally popular as the Cowboys. He improved not just the team's on-field functioning but also its financial performance.J
The drive for success and the value of hard work were instilled in him by his parents, Pat and Arminta Jones, who owned a grocery store in the Rose City area of North Little Rock, Arkansas, where Young Jerry Jones worked long hours from when he was nine. After school, he would dress up in a black suit and a little bow tie and come to their store. "Can I help you find something, ma'am?" he would ask. Sometimes, he would also push a cart around for the customers who he knew might give him a quarter.
In junior-high, Jones was a football star, and when he entered college, he became the co-captain and starting guard of the 1964 Arkansas football team that won the national championship. "He wanted to play and win more than just about anybody," said Frank Boyles, the head coach of the Arkansas Team.
Being a Business Tycoon
 His love for sales continued during his years in the University of Arkansas. While the rest of his friends were busy partying or spending the weekend with sorority girls, Jones was occupied with making money— selling shoes and life and educational insurance policies. It was the Life magazine article about Art Modell that sparked his dream of owning a professional football team or what he calls his "lifelong dream."
At the age of 23, Jones tried to buy the AFL's San Diego Chargers with other investors' money. However, because of the team's financial issues at the time and his father's warning about the sale's massive debt that would be extremely hard to recover from, Jones withdrew his interest from the team. After this, he focused on other business ventures. In 1981, he engaged in an oil and gas wildcatting business and formed Arkoma Production Company. With the combined success of Arkoma and his investments in real estate and banking, Jones earned a fortune.
In 1989, Jones, who by then was already a very wealthy and powerful oilman, went on to buy the NFL Team 'Dallas Cowboys' and their home field, Texas Stadium. A year later, he faced a major adversity – he was accused of swindling the Arkansas Public Commission to gain money to buy the Dallas Cowboys. The "$1 billion lawsuit" (as called by Jones) eventually went away.
Bringing Success to the Team
 Jones made bold decisions which resulted to major changes in the team's management and administration. He fired Tom Landy, the well-loved and the only head coach the franchise had. He wanted to raise revenue and slash costs so he also fired other staffers, cutting the Cowboys' staff to fewer than 100 employees. He declared that he would be the complete overseer of everything.
Jones gained many detractors because of these decisions. His moves were tagged as "callous" and "unfeeling," eventually earning him the label "hillbilly buffoon." Because of his hands-on management style, critics accused him of "meddling" with the Cowboys. "Meddling?! Heck, that is just the grocer checking the produce that he is about to sell," Jones would say in defense.
The pressure, the debt, and sleeplessness that he experienced during these early days of managing the Dallas Cowboys resulted to a heart complication called atrial fibrillation, an irregular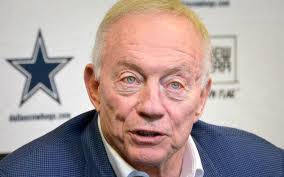 heartbeat that increases the chance of stroke. Jones has tried several medical procedures to normalize his heart's rhythm but none of it became successful. He struggles with this condition up to this day and treats it "with pills and blockers." "It was such a trying time. I sometimes tear up just talking about it…I think it was almost some kind of traumatic," recalled Jones.
These adversities did not stop Jones from making his team successful. Instead, they increased his desire to achieve more. To improve the financial resources of the team, he used his skills as a salesman and courted potential buyers and advertisers himself to raise their revenues.
He was able to earn big merchandising and promotion deals with top brands like Nike, PepsiCo Inc, Dr. Pepper, and American Express, among others. He takes care of these partnerships and doesn't mind "playing the fool" if it will bring success to him or his partners. "These partnership interests are something I picture like I own them as well," Jones says. "And once we sign those [contracts], then I tell them I will fly across the country to speak with their customers. I just treat 'em like I own 'em."
Jones has been very passionate about the Dallas Cowboys that he devotes a lot of his energy to the game. He would often go three straight nights without sleep when he's crafting a deal. He's also always there, in almost every game, to support his team.  No wonder the Dallas Cowboys became a huge success.
So, what makes Jerry Jones this passionate and driven?
"Fear is what motivates me," he says. "When I bought the Cowboys, no one in the history of sports had put that much money on the line. But had the team lost money, I would have bankrupted my self-confidence and not been able to hold up my head before my family. I would have forever been known as the guy who wanted a team so bad that he blew $140 million. And that scared me to death."
 Jones stood boldly in the face of adversities and successfully hit the home run to success.
Sources:
http://www.people.com/people/archive/article/0,,20101909,00.html
http://www.dmagazine.com/publications/d-ceo/2013/october/jerry-jones-the-grocers-son?single=1
http://www.forbes.com/profile/jerry-jones/
http://espn.go.com/espn/feature/story/_/id/11420510/dallas-cowboys-owner-jerry-jones-wants-known-football-man