Unlike many successful women in the world, Jackie Cochran's life has always been a puzzle with many missing pieces. As early as six, she realized that she was an orphan, and no one in her foster family knew her exact birth date. Eventually she learned that her real name was Bessie Lee Pittman, but she chose to use the name Jacqueline instead. She picked her own surname, Cochran, from a phone book.

She was raised in poverty; she did not even own her own pair of shoes until she was nine. She was also an elementary school dropout. She lacked almost everything needed in order to succeed—influential family, money, and education. What she had, however, was a strong will to survive. Who would have thought that this once barefoot girl would become a pioneer American female aviation pilot?
Young Cochran had her first job at age six, when she worked in a Georgia cotton mill. A school teacher took Jackie under her wing, and Cochran began to dream bigger. She became good at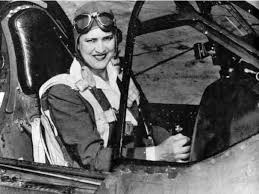 cooking and cleaning at age seven. She also served as a midwife for pregnant women in their town. At ten, she worked at a local beauty salon and there, she tried to learn everything there is to know about beauty and styling. As she became better at it, her skills as a beautician took her to New York City, and was met by countless opportunities. Though unquestionably inexperienced, she made up for her imperfections with boldness and iron determination. In 1932, she became one of the top hairdressers in New York.
Cochran's customers in New York had been her way to travel to Europe and Miami. In Miami, she met her husband, Floyd Odlum who introduced her to the world of flying. In the same year of 1932, she earned her pilot's license in less than a month. She had an innate skill to pilot an airplane and she connected well with the airplane she flew. Though well-equipped with pilot skills, she was terrified by the written test which was part of the licensure exam. Her lack of formal education made her unconfident. However, she did not let her fears stop her. She studied and asked the examiner to allow her to take the exam verbally. Through her undeterred will, Cochran triumphed over this adversity.
Fueled with Passion, breaking the records
Jackie Cochran lacked education but she is a strong-willed woman. After she earned her license in 1932, she competed for her first air race in 1934. In a span of two years, what was then a top hairdresser becomes a multi-million dollar cosmetics manufacturing company owner.
Cochran did not only conquer new heights in the field of cosmetology, she also flew high in air racing. In 1937 she won first place in the women's division of Bendix and became the world's first woman to make a blind landing. Many more awards came after that year.
In 1939, as Hitler's Nazi troops attacked Europe, Cochran realized the emerging need for women to assist in flying America's military aircraft. She communicated her ideas with General Hap Arnold, only for him to reject her ideas.
Cochran's journey didn't end at this rejection. Aside from setting new women's records, she was also the first woman to fly a bomber across the Atlantic Ocean, leading to the formation of the Women's Air Force Service Pilots (WASP) program during World War II. In 1950, she received the Harmon Trophy as the Aviatrix of the Decade.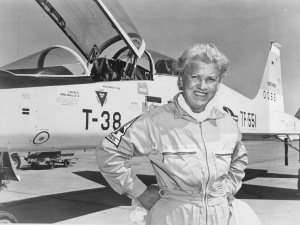 She became the first woman to exceed the speed of sound, in 1953. In three short years, she set 73 records. In fact, she did almost 200 records in her entire career.
She was once a poverty-stricken child, who went to the world of cosmetology and excelled. Far from this field, she entered a male-dominated venture, aviation. Jackie Cochran never allowed the adversities she had from the day she was born define her. Instead, she became adaptable to every change that happened in her life; she let all the things and people who crossed her path change her and make her identity unforgettable. She excelled both in the feminine and masculine world. She went higher and faster than anyone could possibly dream of. What she lacked in experience, she made up for through sheer will. As she said: "If you will open up your power plants of vitality and energy, clean up your spark plugs of ambition and desires, and pour in the fuel of work, you will be likely to go places and do things."
Sources:
http://www.nationalaviation.org/cochran-jacqueline/
http://waspmuseum.org/jackie-cochran-biography/
http://www.biography.com/people/jacqueline-cochran-9252061#synopsis