As the pragmatic co-founder of Sony Corporation, Akio Morita was admired and honored as the man behind Sony's international success. Aside from being a businessman and a marketer, he was a visionary for he saw the vast opportunities for gaining global presence.Morita was recognized as a Master of Adversity for his ability to see only opportunity.
Early Years
Akio Morita was born in Nagoya, Japan in 1921 to a wealthy middle class family. His family had been brewing sake or rice wine for nearly 400 years. Since Morita was the eldest son, he was groomed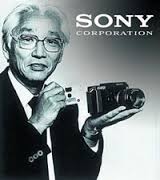 to become the heir to the family business. At a young age, he was already an expert at brewing and evaluating their product, as well as managing the workers in their factory. Everything had been planned and laid out for him, and it was always assumed that he would eventually take over the family venture. However, Morita deeply preferred electronics, and was fixated on tinkering with electronic equipment at an early age. Mathematics and physics were his favorite subjects during his elementary and junior high school days, which was during the midst of the Pacific War.
Morita graduated in 1944 and rose to the rank of Navy lieutenant that same year. He first encountered Masaru Ibuka in the Navy's Wartime Research Committee. When he returned to the family home in Nagoya after the war, Morita was offered a faculty position at Tokyo Institute of Technology. Once, he read an article about a research laboratory founded by Ibuka. Upon reading this, Morita immediately visited Ibuka in Tokyo and they decided to start a new company together.
Ibuka and Morita founded Tokyo Tsushin Kogyo K.K. (Tokyo Telecommunications Engineering Corporation) in a bomb-damaged department store. While Ibuka devoted his energies to engineering and product development, Morita was responsible in leading Sony in the areas of globalization, marketing, human resources and finance. Morita also ushered Sony's entry into the software business while overseeing the company's day-to-day operations.
Biggest Breakthrough
The first product prototype of their company was an electrical rice cooker – a Japanese rice cooker made from the fuel tanks of American fighter planes. In May 1954, The rice cooker was a failure, it did not work and it only sold 100 units. Sony launched Japan's first transistor. They created sophistical electrical equipment from then on.
Akio Morita saw the possibility of expanding their business globally. Then in 1958, he made a brilliant decision when the company changed its corporate name to Sony. This was a combination of the Latin word for sound, sonus, and the colloquial English word 'sonny' which symbolizes the company's ingenious and enthusiastic staff.
In 1963, Morita moved to the United States with his family while he set up the Sony Corporation of America. From there, Morita positioned Sony as a symbol of innovation and world-class quality. Seven years later, they were the first Japanese firm to be included on the list of New York Stock Exchange.
Morita suffered a stroke and was confined to a wheelchair in 1993. But despite his condition, he was able to finish his book entitled "Made in Japan," in which he explained Japan's success as an industrial power as a result of creativity and innovation, both of which reflected in Sony's brand identity.
Rise to the Challenge
Sony is famed for products that have revolutionized the way technology is being used around the world. Sony's inventions entertain millions of people worldwide with their iconic products such as VAIO laptops, Playstation and Walkman. The Walkman may seem bulky and tacky nowadays but these players are perhaps a distinctive innovation in the popular culture of our time.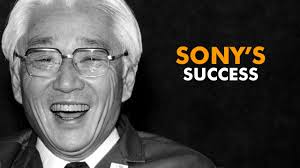 It is also interesting to note that when Morita was in New York, he was able to closely observe gangs with boom boxes on their shoulders. Most people saw and heard nuisance and fear but Akio Morita saw opportunity. He saw the need for a device that would allow to people, especially the youth, to listen to music wherever they went. He made this idea come to life and the world was introduced to the iconic Walkman.
Morita was a risk-taker who followed his intuition. It is apparent when he started his own electronics company, when he could have easily been the heir of their family business. His biggest decision was to globalize Sony and help put Japan's technological expertise on the world map. The original plan was to simply make Sony the number 1 technology company in Japan, but what he envisioned was for Sony to go beyond borders. Morita's "Think globally, act locally" strategy clearly worked because his company transcended adversity and national objectives as they began to serve international customers, employees and shareholders. Sony surmounted the obstacle that Japanese products have the lowest quality. Through Morita's borderless vision, Sony became a symbol of Japan's industrial success.
Sources:
http://factsanddetails.com/japan/cat24/sub157/item918.html
http://www.slate.com/articles/business/moneybox/2010/10/goodbye_walkman.html
http://www.evancarmichael.com/Famous-Entrepreneurs/1158/The-Man-Who-Made-Sony-The-Early-Years-of-Akio-Morita.html
http://www.jacanaent.com/Biographies/Pages/MoritaA.htm