Michael Jordan is widely acclaimed as one of the greatest athletes of all time and arguably even the greatest basketball player that ever graced the basketball court. He is also among the most financially successful athlete endorsers and most popular athletes in the world. Much has been said about Michael as a basketball superstar and commercial icon, but it's also interesting to note his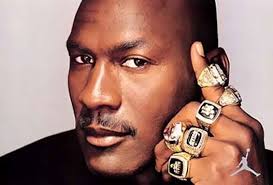 humble beginnings. His legendary story of being a high-school team reject to being ranked as the most successful athlete of all time is probably the greatest example of overcoming adversity.
Early Years
Michael was born in 1963 in Brooklyn, New York. He and his family moved to Wilmington, North Carolina before his first birthday. His father, a US Army retiree, worked as an equipment supervisor while his mother worked in a bank. As a young boy, his first love and best sport was baseball but soon found out that he could also play basketball quite well. Michael and his older brother Larry played together in their backyard court and their daily backyard games helped develop Michael's basketball skills, competitiveness, and determination to win as he consistently lost to Larry. Throughout his childhood, he challenged himself to overcome adversity and to work even harder.
Career Highlights
Michael tried out for his high school varsity's basketball team during his sophomore year but he didn't make the cut. The day he got rejected, Michael went inside his room and cried. What seemed to be a terrible outcome became a defining moment for him. From that day on, Michael was determined to become better than everyone else. Michael later told a journalist that this adversity helped him move forward. He said, "I knew that I didn't want to have that feeling ever again." Each morning throughout the summer, he worked on basketball drills and lifted weights. By the time Michael finished the intense workouts, Michael was considered among the nation's best high school basketball players. He later accepted a full basketball scholarship offer to play for the University of North Carolina under their legendary coach Dean Smith.
As a 19-year old freshman, he made the headline when he made a game-winning shot. The Tar Heels celebrated victory, defeating Georgetown University during the 1982 NCAA title game. The shot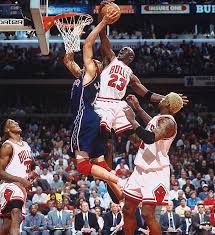 became a major turning point in his career. For his three years at North Carolina, he scored 1,754 points for a 17.4 point average. The Tar Heels compiled a 88-13 won-lost record and appeared in the NCAA tournament each season.
In 1984, Michael entered the NBA draft after his junior year. He was drafted by third overall pick to play for the Chicago Bulls. He was chosen to play on the US Olympic Basketball team as a shooting guard. He then signed a million-dollar contract to play professional basketball with the Chicago Bulls. Michael's intent as he began his NBA career was to help the Bulls improve. In his first season with the Bulls, Michael averaged 28 points per game and was deemed NBA Rookie of the Year. He went on to succeed and become the greatest basketball player of all time.
He became a six-time NBA Champion, a five-time NBA MVP, two-time Olympics gold medalist, two-time NBA All-Star game MVP, two-time NBA Slam Dunk Contest winner, NBA Hall of Famer, and a member of NBA's 50th Anniversary "All-Time Team".
Game Plan for Success
Michael's game plan for success is having the right attitude. It was in the way he looked at adversity. Others might have given up but Michael channeled his frustrations into stepping up his game. Refusing to join the ranks of premature quitters, he worked harder through years and years of practice. He maintained an unparalleled desire to win, to never stop even when injured, and to rebound from failure and loss. For him, the greatest success comes after consistent losses. He remarked, "I've missed over 9,000 shots in my career. I've lost almost 300 games. Twenty-six times I've been trusted to take the game winning shot… and missed. I have failed over and over again in my life, and that is why I have succeeded."
Sources:
http://www.encyclopedia.com/topic/Michael_Jeffrey_Jordan.aspx
http://sports.jrank.org/pages/2397/Jordan-Michael.html
http://www.biographyonline.net/sport/michael-jordan.html